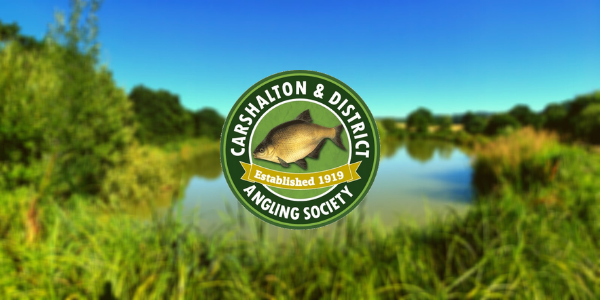 Society Newsletter 2021. Vol.1
Dear Member
Please see the attached reports from the society's officers. There is one from each officer, covering their specific area.
Chairman's report
Well done COVID, you put paid to our calendar of matches for 2021. Not being satisfied with that, you have also put paid to our AGM.
We the committee will endeavour to have the meeting, as and when possible, and to continue so serve you all to the best of our ability until then.
When we took over as the committee we had two rivers and two lakes available to fish.  We have now secured seven lakes at Beaver Farm, two lakes at Bernie's, three lakes at Orchard Place Farm, Weirwood Res and three lakes at Five Oaks.  One of which are private members only and a reduced day ticket at the other two.  Not to mention the two stretches of rivers.  This equates to 16 lakes and two river venues to fish. Alas, we no longer have the lakes at Bury St Austin due to the owner not willing to assist in making the lakes safe for our members.  We asked for a reduction in rent, which was refused after taking thousands and thousands over the years, so thanks Carl!!
I think you have one of the most active committees in the South, trying to give you all varied and enjoyable fishing when you go or allowed to go again.
Thanks to you all for fishing with CADAS and your continuing support.
Alan Ringwood
Chairman
Secretary's Report
Hello and what a year this has been! Never known anything like this, a 3 month lockdown during spring and now as I write this another lockdown, and when will this finish!? Desperate times for all and hope your families have remained safe and well.
Many thanks to the committee this year, and have managed to keep things going.
A new website has been up and running since October, as always it is very informative and different this year. Memberships can be obtained online and go for 12 months from when you join. As all websites it takes a little getting used to.
The Top lake at Five Oaks is now exclusive for CADAS members only. Lots of work was carried out this year with so many trees cut down, swims cut out, and concreted, reeds taken out, and much more on two work parties carried out late spring early summer. 19 swims have now been made and a bridge will be put on far side in very near future.
Unfortunately BSA bottom lake for some reason has fished terrible this year. The committee thought long and hard and decided it was not worth the very high rent that we pay for this fishery any more, and put our finances elsewhere in the future. We realise a lot of our members enjoy fishing BSA top lake, and 2 more than generous offers were made to Carl the owner to keep the top, but I'm afraid he declined.
Just recently also we have secured a 4 year deal at Weirwood for our members.
Finally  would like to thank Martin for the hard work with keeping the membership numbers as high as it is during these difficult times.
A better year this year, we all hope.
Kind Regards
Trevor
Treasurers Report
Money is steadily coming in on a rolling turnover via club membership ,overall costs for fisheries have gone down considerably for this season which is a good thing ,I am happy to report that during this very difficult time, the club seems to be able to weather this storm when a lot of other clubs are really struggling financially. This I think is mainly down to The Committee using club funds wisely .
Stay safe and Good fishing in 2021
Phil Taylor (Hon Treasurer)
Membership Secretary Report
So much has happened in the last year, a new updated version of our website was introduced. This improved site now offers a straight forward method of renewing and paying for your membership online, without the hassle of getting passport photos, cheques and postage. If you haven't got access to a P.C, laptop or android phone maybe a relative or friend or alternatively the local library. One thing to remember is that existing members will require logging in with an email and set a password. Remember 2020 members must renew by the 1st of March, you have 30 days grace after which you will require to pay the joining fee.
You can update your profile and upload a passport photo, once uploaded the only thing you will not be able to change is your photo. If in the future you need to update your photo send me an email with your new change and I will update. Failure to include a passport type photo on your profile page at the time of renewing, your membership card will NOT be sent out.
You will also be sent out a new car permit with your membership which must be displayed when visiting our waters, this is important when visiting our commercial fisheries as failing to do so will incur you paying a day ticket, excuses will not be tolerated so try not to forget.
New members can now join throughout the year and their membership will last a year from the day they join. Which in the past they would have had to forfeit a few months if joining halfway into our season. We are one of only a few Societies that now offer this facility in the country.
We the Committee have been able to keep Membership fees stable for this coming season. As for the value I don't know of any other club that gives the same quality and variety of fishing for the price in the areas we offer. We are always striving to improve on what facilities we offer, at present we are looking at and negotiating with the owners of two other waters for the near future, keep an eye on the news section of the society's website for the latest updates on whats going on.
Members now have the opportunity to purchase club clothing which can also be personalised at a very reasonable price. On all sales we get 20% which goes to keeping our costs down in other areas. Why not promote the club and look smart at the same time.
On a final note the society's membership remains stable going on previous years with a big jump in new memberships when the government introduced the furlough scheme, which was good news at such a dire time for most. However we can not rest on our laurels with many of our members in their twilight years and with fewer youngsters entering the sport this I am sure has been the culmination of quite a few local tackle shop closures. As members we must all endeavour to try and publicise and promote what Carshalton & District Angling Society has to offer if we are to keep what I believe to be one of the best clubs in the South East.
Kind regards & stay safe
Martin Charnock
Competition Secretary's report
Having 2 lockdown in one season is unbelievable!
Five Oaks middle lake fished well for silvers, so did Orchard place farm silvers lake no 10 earlier in the season. Although no matches were allowed on our Top lake till this new year, pleasure anglers had lots of action with carp and silvers. Bernie's racetrack also done well with the carp obliging on our matches mainly on far bank.
Our inter club match with Godalming AC resulted in us winning at BSA, and them winning at Richardson's lake, Marsh Farm.
The annual match on the mole at Betchworth, orchard stretch, was well supported but small fish as always, were only caught, but does fish well pleasure fishing.
The trip to Kent doughnut lake, orchard place farm always produces big weights, but does not get well supported. 178lb was top weight this year.
Maze lake was well attended even though we knew weights would be poor. Late may and june is the best time to fish here. The first summers pond was cancelled but the second went ahead, the carp never showed in their great numbers, but top two silvers weights were 31lb and 18lb of roach.
This has been my first season as competition secretary, and not an easy one. It's hard trying to please everyone and am trying to do what's best for everyone.My main objective is trying to spread the pools money out so  40% of those in attendance get some kind of a return.
I'm always open to suggestions of new and old venues for matches, but it does seem with the regular comp anglers getting older, the hardcore of that group don't want to travel far.
All match reports and pictures can be found on the website.
Tight Lines
Trevor